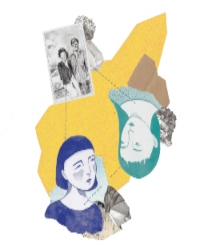 God Said This
When
Runs from Thursday June 1 2023 to Saturday June 24 2023
Approximate running time: 2 hours
Venue
Play/Event Notes
×
GOD SAID THIS by Leah Nanako Winkler June 2 - 24, 2023
Sisters Hiro and Sophie grew up together in Kentucky, but their lives have taken them down very different paths. When their mother Masako begins chemotherapy, Hiro returns to her family's messy world as they dig through their past to find a picture they can all fit into. A sharp, funny, and compassionate look at what it means to face the Unknown together.
"A stunning, painfully complicated, funny, and compassionately rendered story of an American family." - Heidi Schreck
Written by Leah Nanko Winkler.
Featuring Maki Yi, Yoshie Bancroft, Sebastien Archibald, and Stephanie Wong.
Directed by Kaitlin Williams, assistant director Parmiss Sehat. Lighting Design by Jonathan Kim. Set Design by Alaia Hamer. Sound Design by Chengyan Boon. Properties Coordination by Monica Emme. Costume Design by Melicia Zaini. Stage Management by Taylor Mackinnon.
ADVISORY INFORMATION: God Said This is a sharp and sincere look at family relationships between adult children and their parents. It includes very strong language, some recreational drug and alcohol use, and discussions of alcoholism, cancer treatment, and grief. If you have concerns, please contact our box office at 604-731-5518 or tickets@pacifictheatre.org.