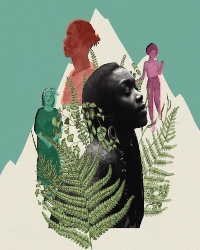 Black & Rural
When
Runs from Thursday March 30 2023 to Saturday April 15 2023
Approximate running time: 2 hours
Venue
Play/Event Notes
×
A guest production from Pi Theatre.
Black & Rural is the story of a lone Black country woman struggling to defy the monolith of what matters to Black lives. Derived from dozens of real-life interviews with Black folk tucked away on the countryside across Canada, Shayna Jones weaves together a story of vulnerability, quiet triumph, and striking humanity. The show features Shayna's unique storytelling voice, interspersed with new folkloric tales and verbatim reflections from her interviewees.
Written and performed by Shayna Jones. Directed by Richard Wolfe.
ADVISORY INFORMATION: Black & Rural is drawn from the true stories of Black Canadians, and explores their lived experiences with frankness and grace. This show features strong language. If you have concerns, please contact our box office at 604-731-5518 or tickets@pacifictheatre.org.