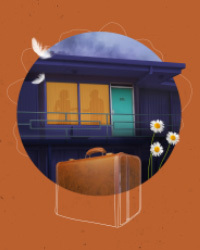 The Mountaintop
When
Runs from Thursday May 19 2022 to Saturday June 11 2022
Approximate running time: 2 hours
Venue
Play/Event Notes
×
April 3, 1968. Doctor Martin Luther King Jr. retires to the Lorraine Motel, desperate for a pack of smokes and a good night's sleep after exhorting America to 'be true to what you said on paper'. Enter Camae, an enigmatic hotel maid with a great deal of information about Doctor King's future – and the future of the movement he champions.
"Crackles with theatricality and a humanity more moving than sainthood." – Newsday
Directed by Omari Newton.
Featuring Kwesi Ameyaw and Shayna Jones.
Set Design by Brian Ball. Costume Design by Stephanie Wong. Lighting by Jonathan Kim. Sound Design by Chengyan Boon. Projection Design by Wladimiro A. Woyno R. Properties Design by Monica Emme. Intimacy Direction by Lisa Goebel. Apprentice Direction by Samantha Forbes. Stage Management by Jenny Kim. Assistant Stage Management by Samantha Pawliuk.
SHOW ADVISORY: Hall's The Mountaintop skillfully imagines the final night of Martin Luther King Jr.'s life in the Lorraine Motel. This fantastical drama contains descriptionsof police violence and hate speech, some sexual innuendo, and strong language. Allergy warning: Down feathers are used in this show