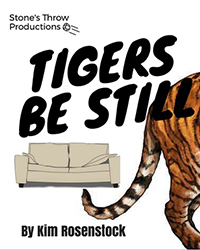 Tigers Be Still
When
Runs from Wednesday June 13 2018 to Saturday June 16 2018
Approximate running time: 1 hour and 30 minutes
Venue
Performance Notes
×
A Stone's Throw Production
by Kim Rosenstock
TIGERS BE STILL is a comedy that follows the misadventures of Sherry Wickman, a young woman who has recently earned her masters degree in art therapy only to find herself moving back home. Unemployed and overwhelmed, Sherry retreats to her childhood bed and remains there until an unexpected employment opportunity gives her a renewed sense of purpose and hope.
Directed by Jess Garden
Featuring: Jalen Saip. Keenan Marchand, Keara Barnes, and Stephen Elcheshen.