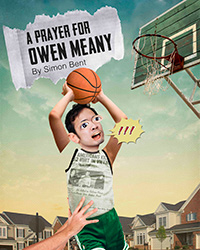 A Prayer for Owen Meany
When
Runs from Thursday January 17 2019 to Saturday February 9 2019
Approximate running time: 2 hours
Venue
Performance Notes
×
Owen Mean believes he is an instrument of God. As he and his best friend John navigate the turbulent America of the 1960's, Owen pulls the strings of a plan invisible to everyone but him and - perhaps - God. An epic tale of faith, absurdity and the power of a single voice.
For accessible seating, please call our Box Office at 604.731.5518
ADVISORY INFORMATION: Not every Pacific Theatre show is right for everyone, and some may include language or other content that may be considered offensive. We are happy to help patrons find the shows that are right for them. If you have concerns, please contact our box office at 604.731.5518 or tickets@pacifictheatre.org.