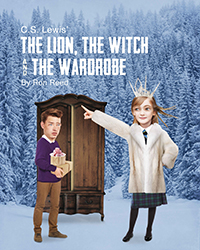 The Lion, the Witch, and the Wardrobe
When
Runs from Thursday November 29 2018 to Saturday December 29 2018
Approximate running time: 2 hours
Venue
Performance Notes
×
Peter and Lucy Pevensie may have grown up, but adult life in London can never compare to their adventures in Narnia. When they return to the wardrobe where their story began, they get caught up in reminiscence and relive their jouney through a magical land.
For accesible seating, please call our Box Office at 604.731.5518
ADVISORY INFORMATION: Not every Pacific Theatre show is right for everyone, and some may include language or other content that may be considered offensive. We are happy to help patrons find the shows that are right for them. If you have concerns, please contact our box office at 604.731.5518 or tickets@pacifictheatre.org.