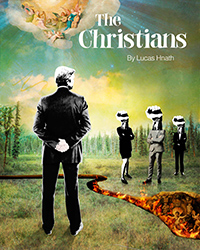 The Christians
When
Runs from Thursday September 14 2017 to Saturday October 7 2017
Approximate running time: 2 hours
Venue
Performance Notes
×
With one sentence, Pastor Paul overturns one of the sacred tenets of his congregation's beliefs, sending the church reeling towards a schism. A thoughtful and complex exploration of the mystery of faith, community, and how we know what we believe.
How do we maintain dialogue when we stand on opposite sides of a controversial void?
"An immersive, timeless, thought-provoking work of drama." -Northwest Herald
Directed by Sarah Rodgers. Featuring Ron Reed, Allan Morgan, Erin Ormond, Mariam Barry, and Tré Cotten.