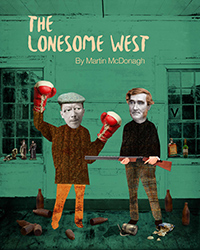 The Lonesome West
When
Runs from Thursday October 19 2017 to Saturday November 11 2017
Approximate running time: 2 hours
Venue
Performance Notes
×
Brothers Coleman and Valene can't seem to co-exist without sudden outbreaks of violence over the pettiest concerns. When their doubt-ridden parish priest attempts to bring reconciliation, their confessions quickly turn from earnest offerings into weapons in a hilarious and dark race to the bottom.
"Both hilarious and viscerally exciting." – Daily Telegraph
ADVISORY: The Lonesome West contains graphic language, slurs, onstage violence, and dark themes.
Directed by Evan Frayne. Featuring John Voth, Kenton Klassen, Sebastien Archibald, and Paige Louter.
A GUEST PRODUCTION BY CAVE CANEM PRODUCTIONS